Dealer Den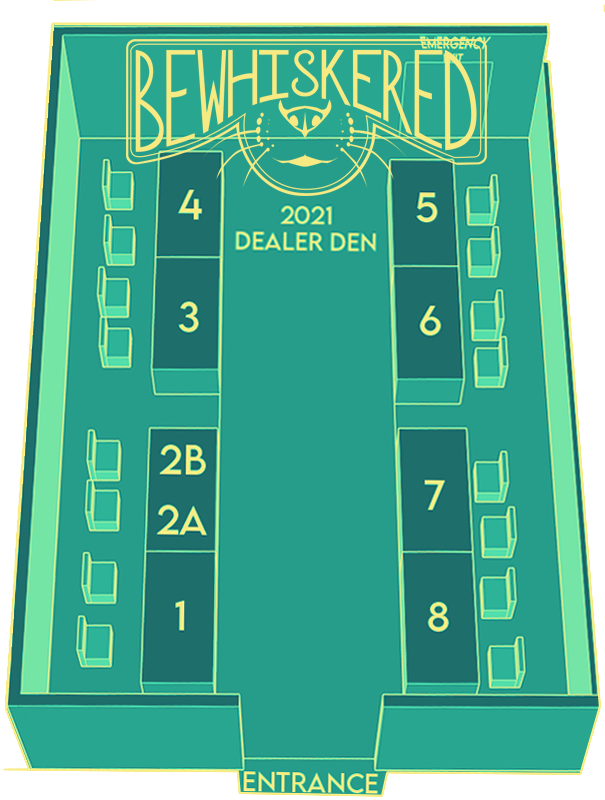 1.) Scoper / Scoper Monstar
"Let me bring out your inner Monstar! Handmade furry accessories."
2a.) Fisher / Chow Fur art
"Chowfur LLC is a small furry business, specializing in anthro illustrations! We also make stickers, badges, fursuit's and more!"
2b.) Fae / Forgetful Fae Fursuits
"Furgetful Fae Fursuits is a single-owned and run fursuit making company, started by Fae herself! She loves bringing characters to life through art, and putting happy smiles on her customer's faces. At Bewhiskered, Fae will be selling pre-made fursuit parts and taking commissions!"
3.) Nyx / NRW Artz
"NRW Artz here, we got Stickers, Pins, Keychains, Buttons, Apparel, Blankets, Mugs and more!!! Come find our NRW Artz booth to see what we have in store for you! Also find us online @NRWArtz on Twitter, Instagram & More!"
4.) Eek / EEK
"Spooky wares within this lair, Along-side flowers to adorn your hair Buttons and prints, fresh from the press Commission accepted, come see the rest!"
5.) BlasterBlurby / City Mutt Fursuits
"CityMutt Fursuits has been making furry costumes since 2012. We excel in all styles and species, but are particularly well known for making rare species. "
6.) Jasper Blue / Blue Canary Gallery
"Blue Canary Gallery creates collectible fursuit snap-and-go bandanas, illustrations, enamel pins, key chains, lanyards, and rings, vinyl stickers, and wearable art designs."
7.) Logan Dillon / OtterBear Studios
"We at OtterBear Studios sell Pre-made Fursuits and Fursuit parts! along with handmade plushie props and cute funny buttons"
8.) Bee / Klovesbunnies Art
"Hi, I go by Bee and I'm a small fursuit maker and artist. I've been making art for almost 10 years, 5 professionally, and fursuits for almost 5 years! I offer super cute fursuits and fursuit parts, buttons, stickers, prints, and the most adorable animal ear headbands. 💖"